- Award Winning Educational Entrepreneur -
"Rolling up my sleeves, inspiring or guiding, I propel people and programs forward in their purpose."
Looking to reinvigorate your career or reenergize your team? With over 10 years of experience, I have helped 1000s develop and grow in their purpose.
I work with both individuals and organizations to provide individualized career coaching, consulting, leadership training, professional development, tools, resources, and courses for healthy and productive work environments.
My expertise is in listening to your needs and providing heart-centered support to help you or your organization make a greater impact at work.
WORK WITH ME

Career Coaching
Looking to express your gifts? Through career development coaching, I partner with you to capitalize on your strengths and interests to achieve your professional goals. Whether you are a young professional trying to decide your path or a mid-lifer wanting to embark on a new path, I can help you reach your goals. Resumes, LinkedIN profiles, cover letters, job search and interview success are my specialities.

Learn More

Consulting
Looking to further your team's or organization's goals? I believe that everyone has unique gifts and abilities to contribute. Sometimes it takes some guidance and tools to unlock this potential in each of us. I have over 15K hours in creating professional growth experiences that 100% of clients have valued and prospered from. I am excited to work alongside you and your organization.
Learn More
What people are saying
"I was really blessed to work with Ruth.  I was at a professional crossroads and needed a new direction.   With Ruth's incredibly skilled and insightful help, I found that new direction and - thanks to her coaching- had the confidence to pursue it!  Thanks so much, Ruth!  What a life changing gift you have. "

Allison P., Career Coaching Client
"I look forward to Ruth's wise counsel on projects, processes and strategy because she is, simply the best! She listens with intentions, develops clear steps, and asks, 'what if?' throughout the process while keeping everyone and everything on track.  Her creativity and visionary outlook defines and produces extraordinary results."

Linda Sollars, President, Creating Purpose & Client
"Ruth delivers excellent content, is a great collaborator, and understands needs based programming. Her presentations are encouraging and well prepared and her sense of professionalism adds greatly to our mutual projects."  

Rich Feller, PhD., Past President National Career Development Association & Client
What to Expect
Wordcloud fun! Top 50 re-occurring words to describe me when over 90 survey participants were asked what five words they would use to best describe me (that's more than 450 words).
reviews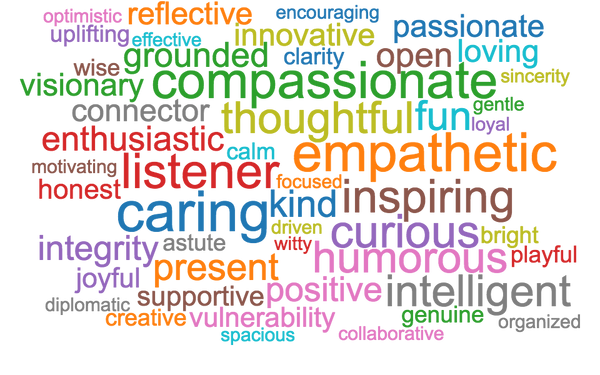 Recent Clients and collaborators